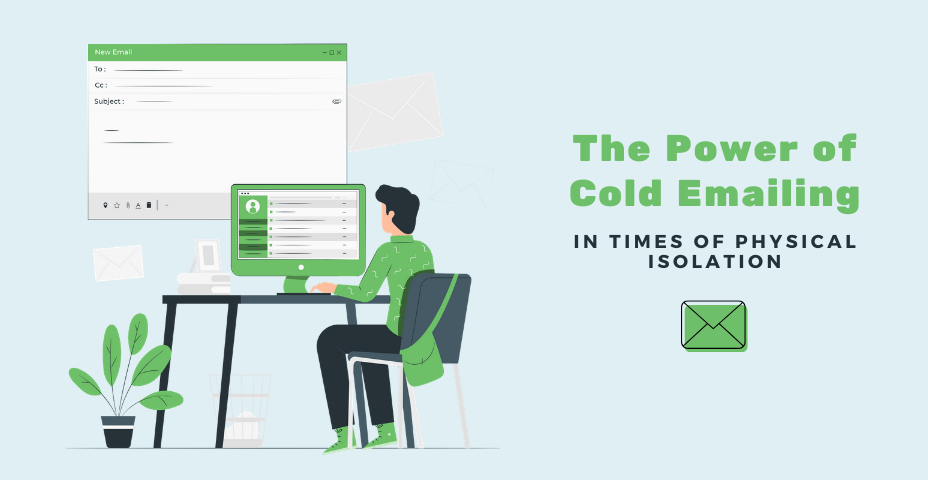 As it gets warmer and warmer outside, it's actually good for your emails to get cold. Well, not literally. When salespeople and service providers (temporarily) can't use the traditional model of selling, it's time to revisit the classics, a.k.a., cold emailing. You don't have to be a copywriter to write engaging cold emails, but professional content writing help can go a long way when the stakes are too high.
So, how to cold email like a pro and expand your customer base?
Let's see.

Hold Up, What Were Cold Emails Again?
In case you need to refresh your memory
Also known as cold pitches, these are emails intended to connect with potential clients and possibly sell a service/product. Of course, it's about starting a conversation first, and not shamelessly trying to sell your stuff right from the get-go.
Cold emails can take on many forms. They are not necessarily emails per se as they can be in the form of DMs (direct messages) on social media, tweets, InMail (LinkedIn), you name it.
The most important thing in cold emailing, however, is to remember the receiver doesn't know or expect to hear from you, yet it's not about them getting to know you. It is all about the benefit they will get from your offer.
How to Write Cold Emails Like a Pro
The step by step guide you need
I will dissect the body of a cold email into its essential components and look at each one up close. These will help you when you are writing your own emails.
#1 The Recipient
Who is your ideal recipient?
Someone who has already expressed interest in your service. For example, you may have come across a post on LinkedIn that they are looking to hire an accountant, and you happen to be exactly that.
Someone who is struggling to handle something on their own without the help of a service provider like you. It could be a thread on Reddit for bookkeeping advice for struggling businesses where you can contribute with tips. By building the credibility of someone who knows the trade, you can then easily approach people and pitch your service.
Someone who could use your service to improve. You may have noticed a local store can run their social media pages so much better. Approach them, offer them solutions, and list all the benefits for them if they choose to hire you as their social media manager.
#2 The Subject Line
You don't need me to tell you this, but if your subject line sucks, no one will bother opening the message itself. How to make them click instead?
Ask a smart question that will make them want to open the email and see what the whole message is about. Don't make it a clickbait, but do feel free to tap into your more controversially creative side.
Reference the benefit they will get from your offer.
Tickle their egos. Mention something you noticed about them, be it in a post or elsewhere.
If you have a content writer among your friends, now is the time to bribe them to help you craft an eye-catching subject line that actually catches the eye.
#3 The Greeting
Even if you are using a cold email template (nothing wrong with that if it's a good one), don't spare the effort to customize it to the recipient. This includes personalizing the greeting, too.
Find out their names even if it requires a little digging. Starting an email with "Hi James!" and one that simply says "Hello" is incomparable.
So, refer to them by name, don't forget the exclamation point (so it's not just a dry greeting), and try to sound cheerful. The stiffer you are, the more off-putting your pitch will be.
#4 The Intro
Avoid anything pitchy. Even elevator pitches don't work this way. Make it about them and your genuine interest in their business. So, don't open with info about your service or what you do. It's great to start with a question or the answer to the question you asked in the subject (in case that's the strategy you went with). Remember, it is all about making a connection and not an immediate sale.
#5 The Content (I'd recommend finding a professional content writer for this)
Now there are a couple of important elements you need to include and curate about the body of your email. The main points are:
Focus on the needs of the receiver, so they can naturally combine 2 and 2, which equals your service as the solution.
Briefly comment on yourself and what you do.
Offer free personalized advice. It's all about giving value before they have even considered hiring you.
Highlight the reasons why you and their business make the perfect fit. Use numbers if you have any real statistics.
#6 The "Thank You" Part
Show them you appreciate their time and are grateful they've spent it reading your email. While you shouldn't be fakely enthusiastic, it's great if you get excited by the possibility of working with them in the future. Let that energy shine through the copy. How can you do that? Well, a pro content writer would know… or your best friend. Someone who wouldn't let you stress over each word.
#7 The "Bye Bye" Signature
Here's the tricky part. It can sell or fail you. Aside from a call to action (schedule a call, get a trial/demo, give feedback, etc.), you need to have an email signature. It should be in line with your brand/industry/business personality. You can't go with "xo Steve" if you are a structural engineer, it just doesn't sound right. But you can sign it like that if you are a makeup artist. Do you see what I mean? Awesome.
Because It's My Birthday
I have some serious cake business to attend to, so if you'll excuse me, I'll end it right here. Feel free to revisit this blog as I will be updating it with new tips. It was through cold emailing that I landed a super cool internship back in the day, and I didn't even know half the things I do now about this type of outreach. The most important thing, however, is to customize it for the person who will be reading but to also let your personality shine through. That's all there really is to it. I mean, aside from the quality of what you're offering, that should be absolutely on point.
Oh well, off I go to blow some candles.
Till next time,
T.