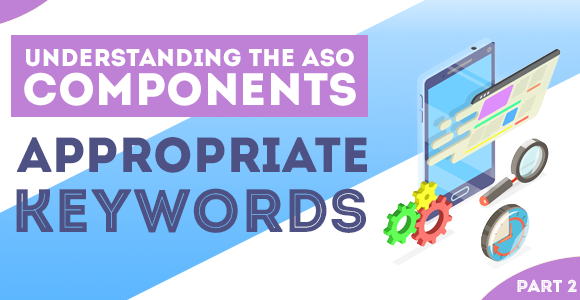 Welcome to part two of the Understanding ASO Components blog sequence. The first one was about the importance of engaging titles, but in today's blog, appropriate keywords are stealing the show.
Before I go into details, let me remind you, app stores are packed to the gills. This is why every developer should ensure their app's visibility. Being in the top results for a specific query search is a must, but it can be tricky.
Three free ways to find keywords relevant to your app
#1. Use your brain
I recommend you start with a good brainstorming session – proper brainstorming where there are no rules, no expectations, and every keyword is written down. Once you're out of ideas, you can start narrowing it down. The trick is to make sure all the keywords you want to use are relevant above all else, yet to not miss a possible long-tail opportunity.
As a rule of thumb, I always find myself mixing ideas or thinking of seed keywords. For example, the keyword "ASO" and the keyword "Writing Services" can be combined into the seed keyword "ASO Writing Services." Now, I really narrowed down a specific service into a longer query, which gives me better ranking chances. I hope you got the idea…
#2. Use your app store search as a resource
The autofill for both iOS and Android is doing more than a great job when it comes to new keywords and variations. Just start with the root keyword, and you'll see what's trendy and what's worth competing for.
Of course, you should keep in mind that you will most certainly come across many autofill keywords that are irrelevant. Don't take all the autofill keywords for granted. Don't optimize for the irrelevant ones just because you see them as suggestions.
#3. Learn from your reviews
Check your user reviews and see how people are describing your app. My experience shows that there may be golden keywords found in user reviews. If not, you can at least ensure that you've reached your target audience. If not, you might need to change your whole strategy, but let's stick to keywords for now.
Google Play vs iOS
While the keyword input on the Apple's app store is pretty straightforward (there is a special field to insert the keywords), Google Play takes into consideration almost every textual element.
Apple App Store
Don't let the keyword fool you. Other fields such as NAME and SUBTITLE also matter. This means that a developer should include the main keyword in both. Actually, the algorithm of Apple App Store takes the keyword in the title with priority, and this makes sense. Here's the list of all the fields and their character limits:
Name – 30 characters
Subtitle – 30 characters
Description – no limit, but is not counted in the keyword search
Promotional text – 170 characters, but it's not counted either
Keywords – 100 characters (no spaces, only commas to separate the words)
Google Play
Google Play takes into consideration most textual elements and doesn't have a particular keyword field. There are 3 fields that are absolutely necessary to fill NAME, SHORT DESCRIPTION, and LONG DESCRIPTION. See all the fields that matter and what to do there.
Name/title – Include your main keyword
Short description – Include the main and a few secondary keywords.
Long description – This is the field where you can do keyword stuffing (but not too much)
Developer name – Try to include a keyword if possible
URL/Package – Same as above
Know what's trending
You can't really rank for something that nobody ever searches, right? Also, if there are too many big competitors with millions of downloads, you should probably try more specific, long-tail keywords. The point is, know where you are and what is going on in the market today.
Also, you can never lose too much if you try professional ASO services. I assure you that there is a lot more than researching keywords and going with the flow. I hope you like the sequence so far and stay with me and the team of 411Writers for the next ASO component. Until then, I'll be happy to answer any questions (if any) in the comment section below.