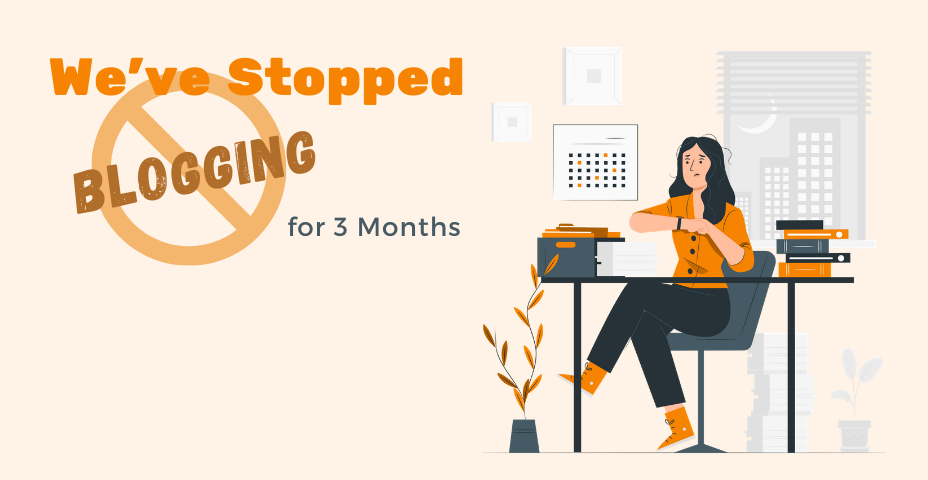 Blogging is important, content is king, ranking heavily relies on the quality of content and regular posting.
Yes, we've heard this before, and it's mostly the truth. Let's see what happens when you stop posting fresh content for a while and if you can afford to invest your resources in something else than regularly updating the blog section.

Hi, long time no see.
In August, we posted our last blog, and that makes three months without a single blog. However, ever since April, we've decreased the frequency of our posts.
And yes, we've lost traffic, BUT,
The Lack of New Content Didn't Affect Our Sales
Yes, We're Special and Here's Why
We, at 411Writers, may function as an independent business, but we're still part of an advertising company's content department. Our mother company creates websites for over 300 industries worldwide, and our writers are getting a huge portion of their work from it.
However, the idea of 411Writers was to break the pattern in a way. More and more customers were asking for additional content that wasn't part of their SEO/Advertising package. We had a lot of creative slogan requests, we were asked to proofread books, even publish News and Press Releases, and so on.
So, a bunch of creatives decided to start a new platform, separately from our mother company to offer only content and blog writing services. Clients started coming, many of them became regulars, and things were looking good.
Maintaining Our Blog Section Gave Us a Boost
As soon as we launched the website, we started posting blogs regularly. Two to four blogs per week, to be precise. We're all writers; after all, it was the kind of place where people could get creative and write about what excites them as long as they found a way to relate it to content writing.
We just wouldn't want to miss an opportunity to rank for content-related keywords. Especially so as the content was our number one strategy to do that. We never tried black-hat methods, we barely got involved in link building (apart from posting a few blogs in platforms that don't even allow dofollow links).
After the first year, we finally started showing up in the first couple of pages. By the second year, we had some first page rankings that boosted our traffic. We already had regular clients that we relied on, and new customers were coming all the time.
COVID-19 Made Us Slow Down
I wasn't even bothered about it. I knew that I would use this as an experiment, so here's what happened.
Until April 2020, we had about 4,000 visits a week. Honestly, that's not a lot, but for a side project of a highly competitive industry, I'd say it's pretty good.
Anyway, our mother company started losing some clients due to the pandemic. Some of ours also backed down, but others decided that this would be the right time to push and made larger orders.
One thing led to another, and we decided to cut some blog uploads. We started posting once a week, and then every other week. That was at the beginning of April, but we saw the drop at the beginning of May.

Now, what's interesting is that we completely stopped blogging in August.
As you can see, our traffic didn't change much. However, our sales were pretty much the same compared to previous months.
Social Media Activity Was Cut Down As Well
If you look closely, you'll see that even without a single post for three months, we've had some good weeks. It's probably right to mention that we also stopped all activity on social media, so we weren't hoping for old blogs to start trending or to get sudden clicks.
Anyway, here's the graph showing the August-November period when we didn't post a single word. Not that there's a sudden spike or something, but as you see, things were not bad considering the situation.

So, there's only one question left to be answered.
Who Can Stop Blogging for Months & Get Away With It?
The only reason this worked out for us, even though we lost ⅔ of our traffic, is that we always strive to be organic. Yes, we maintain a good blog section, but that blog section is not highly promotional.
We aim for two things:
Engage readers and new audiences
Keep up our keyword rankings
When we stopped blogging, a bunch of keywords dropped – that was inevitable. But others kept their positions. This is why we never lost many clients, most of our clients were never the readers of our blog.
The question that still bugs me is,
Was it a mistake not to target customers with blogs?
And right now, I believe it was not. However, for some industries, this is a huge no-no.
Service providers that rely on products have a huge advantage in educating their target audience on proper use, laying down different options, sharing some success stories, etc. All this is a perfect content opportunity for a blog section.
But if your business doesn't heavily rely on new clients that would read about "creative writing," for example, you should be good if you decide to focus your work energy on something different than blogging. The best piece of advice here is to track where your customers come from.
As for the 411Writers team, we're happy to announce that we're back and more blogs are coming soon. The next one will be from Teo, so stay tuned!