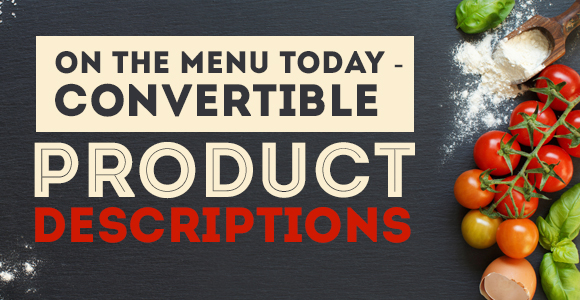 Before I begin, I'd like you to first shake off that perception of product descriptions necessarily being boring, dry, strictly feature-based pieces of content. In fact, a skilled website content writer can inject even the most boring of products with quality storytelling that adds value and draws attention. Are we on the same page yet? Good.
So, is there a perfect recipe for product descriptions?
Yes and no.
The Yes
Use Your Clients' Language — That is not to say using slang words. It IS to say, however, avoid using the manufacturer's often heavy language. Balance the description so it is backed by technical factuality yet it is delivered with character and style. That improves your chances of creating a product description that converts readers into clients.
Make It Scannable — In a world of clickbaits and reduced attention spans, you need to make sure your product description is easy to read and navigate. To best do that, you need to…
Know Your Audience — To do that, you need to be aware of the respective buyer personas that make up your market segments. These personas are essentially fictional representations of the various groups of people sharing the same buying decisions/product needs within your customer base. You can think of them as models of your actual customers. If you know to whom you are addressing your copy, you can avoid missing a sale because you failed to grab the attention of your reader.
Optimize Your Product Descriptions — It all comes back to SEO at some point. Product descriptions are a great way to strengthen your SEO strategy. You'll want to optimize your copy for keywords that are relevant to your product/industry. If you struggle to find the most beneficial keywords, I suggest turning to professional SEO copywriting services.
Tell a Story — This is something I so rarely see people do with product descriptions nowadays. Use your description to tell a story. Put your reader in the shoes of your ideal customer. Make them feel the need for your product. Convert them. It could be any kind of story, really. However, don't go overboard. Stick to simple language and short sentences. These are the basics of every successful content creation strategy. Also, your product description is not an alternative read to Harry Potter, it is a specific, to the point copy!
Split Test It — I can't stress this enough. To know which kind of product description works best for your audience, test different formats, lengths, words, etc. Doing so can help you optimize your product page which in turn, will improve your conversion rate.
Proofread Everything — A while ago I wrote about the importance of proofreading every single copy that makes it to your website. The same applies to product descriptions.
Don't Skip Essential Details — Before you embellish your description, make sure it contains all vital information pertaining to the product. For example, if you are selling jewelry, don't forget to include information, such as "nickel free" because people with allergies will be looking for details like that.
The No,
a.k.a. My Personal Advice
In theory, if you follow the above-mentioned tips, you will have a perfect product description. I personally follow them when I write descriptions, but there is a little extra required if you want to go from "close to perfect" to "convertible." And that extra is a little thing called honesty. Honesty and transparency are the best way to sell a product. More importantly, they are the best way to sell your brand. People know every product has some kind of flaws, no matter big or small, and they will never believe a description that says "this is perfect, and that is perfect, too." They will appreciate your honesty, and that will get you a lot more than a sale, it will get you their trust and respect. And remember, you're not writing a thesis. You're creating a copy that connects your product with your customers. Don't be afraid to get creative.
I hope this helps. If it doesn't, and you have a different view on the matter of product descriptions, share it with me in the comment section below!
PS: Personally, I am a huge fan of the one sentence product pitch, but it is effective only in very particular cases for specific products and, well, audiences!